A Triple-win for your business!
Thank you for choosing the Tacoma-Pierce County Association of REALTORS® for your REALTOR® Board of Choice. We appreciate your continued investment in our work to PROTECT the real estate industry, PROVIDE resources to members and their clients, and PROMOTE REALTORS®. As a member of TPCAR, you receive benefits from not one, not two, but THREE REALTOR® Associations, NAR, Washington REALTORS®, and TPCAR, all working to ensure you and your business succeeds. We call that a triple-win for your business!
 As a TPCAR REALTOR® member, you can maximize the return on your dues investment with many of the membership benefits listed below.
TPCAR FEATURES AND BENEFITS
PRO-INDUSTRY CANDIDATE ENDORSEMENTS
TPCAR's Endorsement Advisory Committee interviews candidates and provides financial support based on their understanding and acknowledgement of the importance real estate plays in our communities, their support of REALTOR® issues, and their commitment to working with TPCAR on housing issues as public policymakers.
 CAMPAIGNS TO PROTECT YOUR BUSINESS
TPCAR leverages our relationships with elected officials, community leaders, and business stakeholders to create and sustain pro-real estate policy that will provide a favorable climate for your business to succeed. Whether we are looking to increase the housing supply with Home In Tacoma or protect attainable housing with No On Measure One, we leverage our resources to enact pro-real estate policy through targeted campaigns.
CONSUMER CAMPAIGNS
TPCAR has a goal of having every transaction conducted in the South Puget Sound brokered by a REALTOR®. Through our consumer campaigns we help educate potential clients on the value of using a REALTOR® vs. a licensee, and send them to our member directory to be paired with TPCAR REALTORS®.
COMPLIMENTARY SAFE SHOWINGS APP
TPCAR is the ONLY local association in the state to offer a safety app to their members. The mission of SafeShowings is to deter criminal behavior against Real Estate Professionals, Home Owners, and Clients.
SafeShowings helps keep REALTORS® Safe! The number of crimes and murders committed against real estate professionals continues to increase every year. This is why all real estate professionals must put their safety first!
WEBSITE & DIRECTORY
TPCAR launched a new website in the fall of 2021 intended to bring more value to our members, including our searchable directories where consumers can find a REALTOR® like YOU best suited to meet their needs.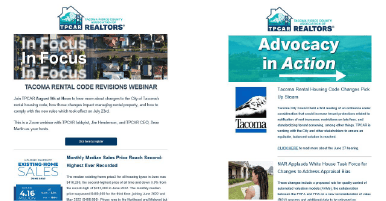 CURATED COMMUNICATIONS
We understand how busy REALTORS® are and in response we have created curated recurring communications where you can receive important information in one curated format. These include our bi-weekly InFocus Newsletter, our bi-weekly Educational Opportunities Newsletter, and our monthly Advocacy in Action & Brokers' Corner Newsletters.