Congratulations 2022 REALTOR® AWARD RECIPIENTS!
One of the things that TPCAR can do that no one else can is to recognize those members who exemplify all the best of what it means to be a REALTOR®, both for those who have a longer history in the association or for those who are just beginning their careers. These members have made a commitment to their business, clients, communities, and professionalism.
Since 1955, this award has recognized outstanding service to the Local, State, and National Associations as well as community involvement. The REALTOR® of the Year demonstrates what we call "REALTOR® Spirit," a faithfulness to the principles of the REALTOR® organization, professionalism, and Code of Ethics.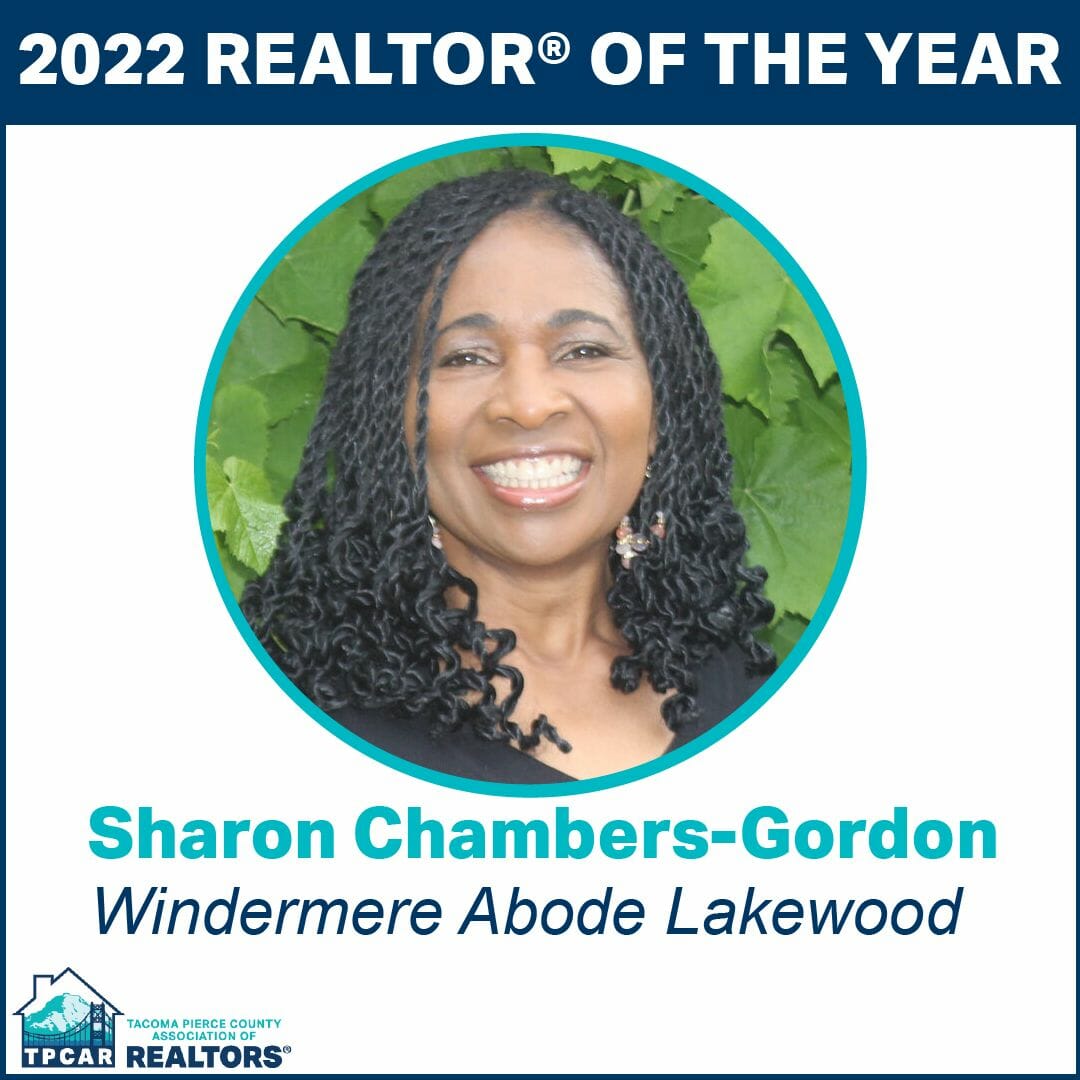 Sharon has used her background in organizational development, communication, and education to grow her real estate business and be able to give back to her community.
As a REALTOR®, Sharon has served TPCAR as a Board Director, committee volunteer, Leadership Academy instructor, RPAC Major Investor, as well as being an advocate for the Association wherever she goes.
Sharon is also a Top-5 rated REALTOR® in Pierce County, per Rate My Agent, closed 26 transactions in 2022, and has also been featured in State and National REALTOR® publications.
She is passionate about upholding the REALTOR® Code of Ethics and has supported the growth of DEI initiatives in the industry for many years. Sharon serves as a Washington State Home Buyer Instructor for the State Housing Finance Commission.
Sharon has leveraged her successes as a REALTOR® to grow her passion project, the award-winning Raising Girls. Started in her own garage, Raising Girls provides necessary hygiene products to girls (and boys, too) in the South Sound, while partnering with local organizations committed to serving our youth.
In addition to Raising Girls, Sharon has served countless other organizations including her local Rotary, Hilltop Artists, Girl Scouts of Western Washington, the Tacoma Urban
League, as a facilitator for Courageous Conversations for REALTORS®, and as a mentor for Palmer Scholars.
If you have met Sharon then you know that people, real estate, and community are at the center of everything she does. She is the type of person you want on your team.
REALTOR® ROOKIE OF THE YEAR
The Rookie of the Year Award is given to those who have been in the real estate profession for two (2) years or less as a REALTOR® but have also made an impact in that short time.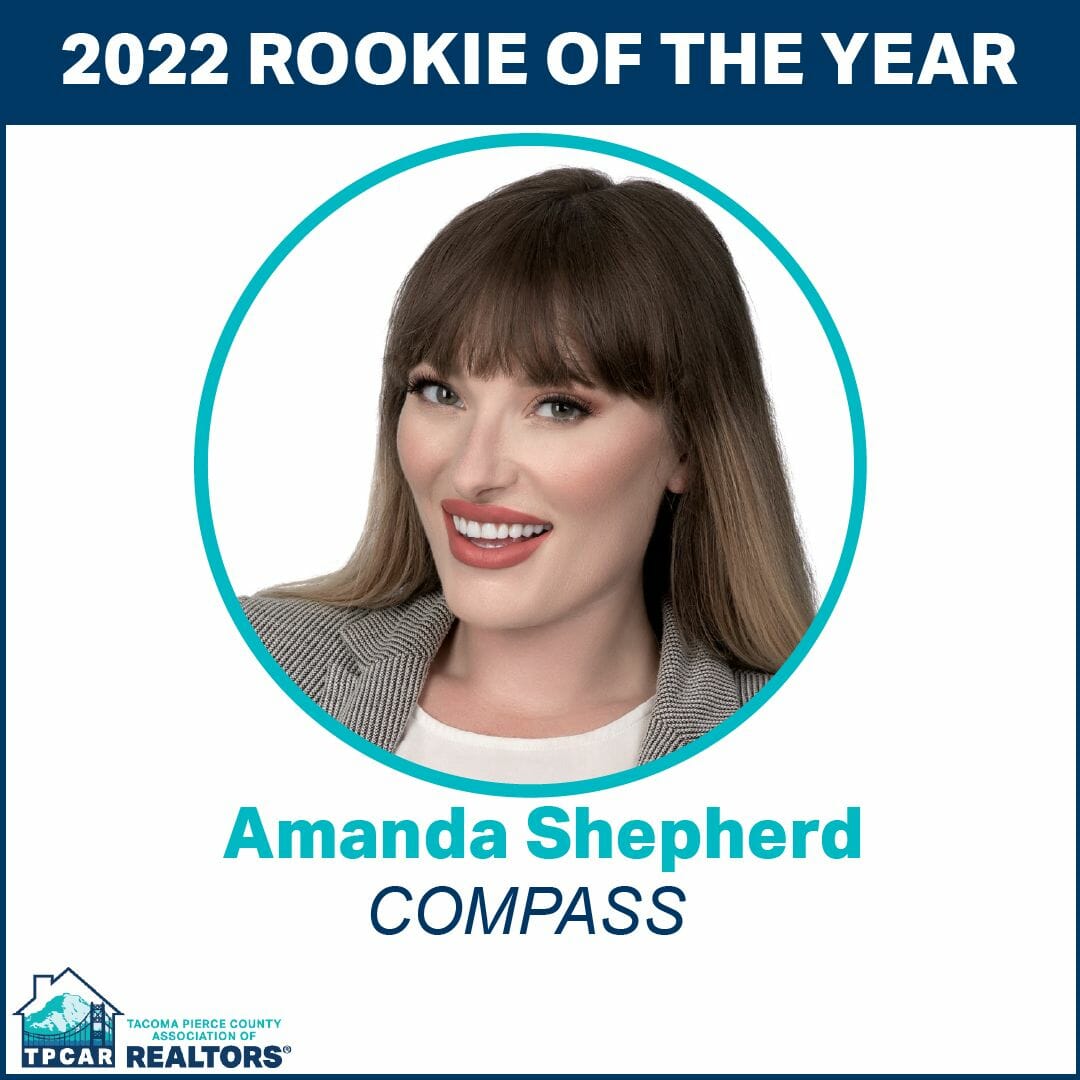 As a Rookie REALTOR®, Amanda closed 14 transactions her first year doing 5.9 million dollars in sales and 8.6 million dollars in sales in 2022. She received the Rookie of the Month award at her previous brokerage for closing 5 transactions her first month.
Amanda was awarded Homesnap's fastest growing agent award and top 25% in the nation award in 2021. She was also awarded Homesnap's most viewed agent award for 2022 and has been featured on King5 evening magazine.
Amanda values community and time with her daughter, who she raises by herself. She is an active member of the Tacoma-Pierce County Chamber, Volunteers at her daughter's PTA as well as Rebuilding Together South Sound.
Amanda is also Luxury Home Certified through NAR, and hopes to continue to grow her real estate career and provide the best possible life for her and her daughter.
REALTOR® COMMUNITY SERVICE
The REALTOR® Community Service Award is based on the outstanding contributions of a REALTOR® to the local community as well as being an active professional member of their local association.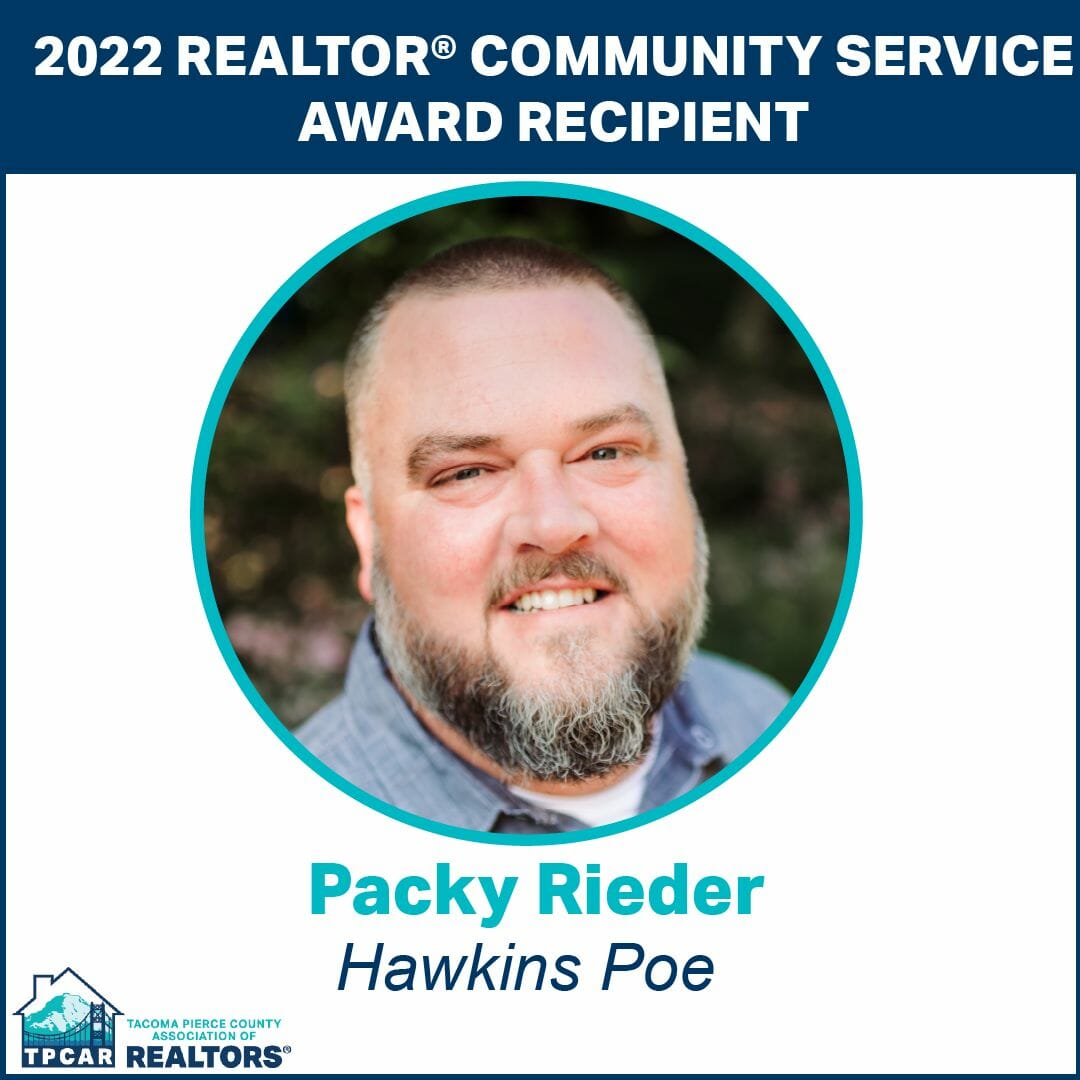 Packy has committed his volunteering time to causes which help combat veterans and first responders who are battling PTSD.
His work includes the Permission to Start Dreaming Foundation where he has been involved for 8 years, including the past 7 years serving on their Board of Directors, as well as acting secretary for 2 years.
He's also the director of the Swing for a Soldier golf tournament, the largest scramble golf tournament in the state of Washington with nearly 1 million dollars raised. Money raised supports combat veterans and first responders battling PTSD.
Heroes Huddle – Packy founded this organization which hosts monthly peer-to-peer counseling group for veterans and first responders to attend and find community.
Packy also coaches youth of all ages and sports, including football, baseball, and basketball. He enjoys having a positive impact on the kids, families, and community, and being able to teach lessons to youth both on and off the field.
Packy's goal is to show his three children that a lasting legacy is as important as any dollar made.
The Affiliate of the Year Award is open to non-REALTORS® associated with the real estate industry, and who are some of THE BEST supporters of our association. REALTORS®, these are your go-to industry contacts that can help you and your clients out!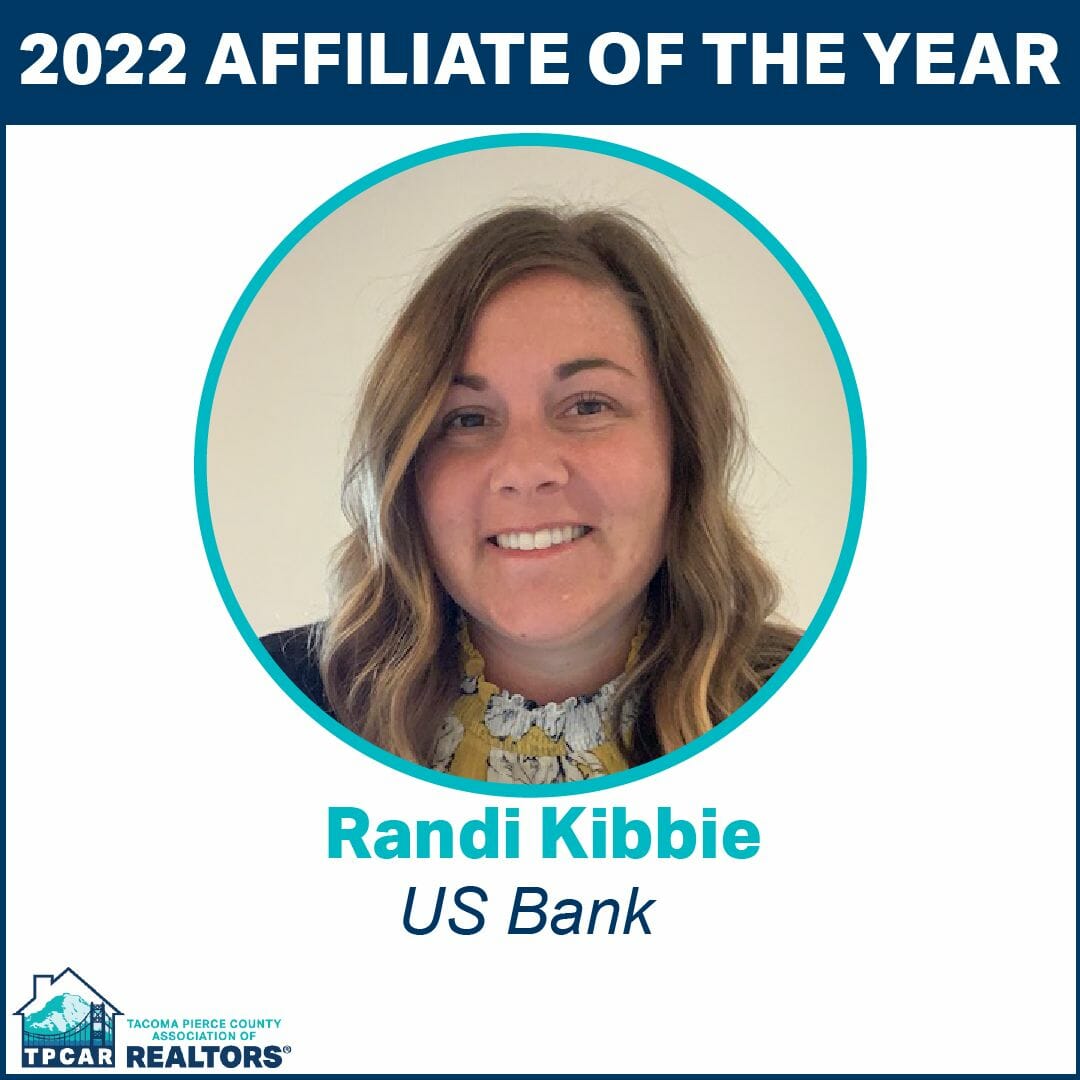 Randi has been a strong supporter by sponsoring TPCAR Fair Housing classes and New REALTOR® orientations, volunteering at events, submit content for InFocus eNewsletter, and helping to onboard new REALTOR® members to our association through the Ambassador Mentorship program.
Randi has also been active in the community by teaching first time homeowner classes, supporting The BIG give, various food drives, and by providing sponsorships for HOA and USEF local riders.
The Citizen of the Year award is given to a non-REALTOR® who is recognized for their contribution of service to the public, and who makes a significant contribution to the health and vibrancy of our communities.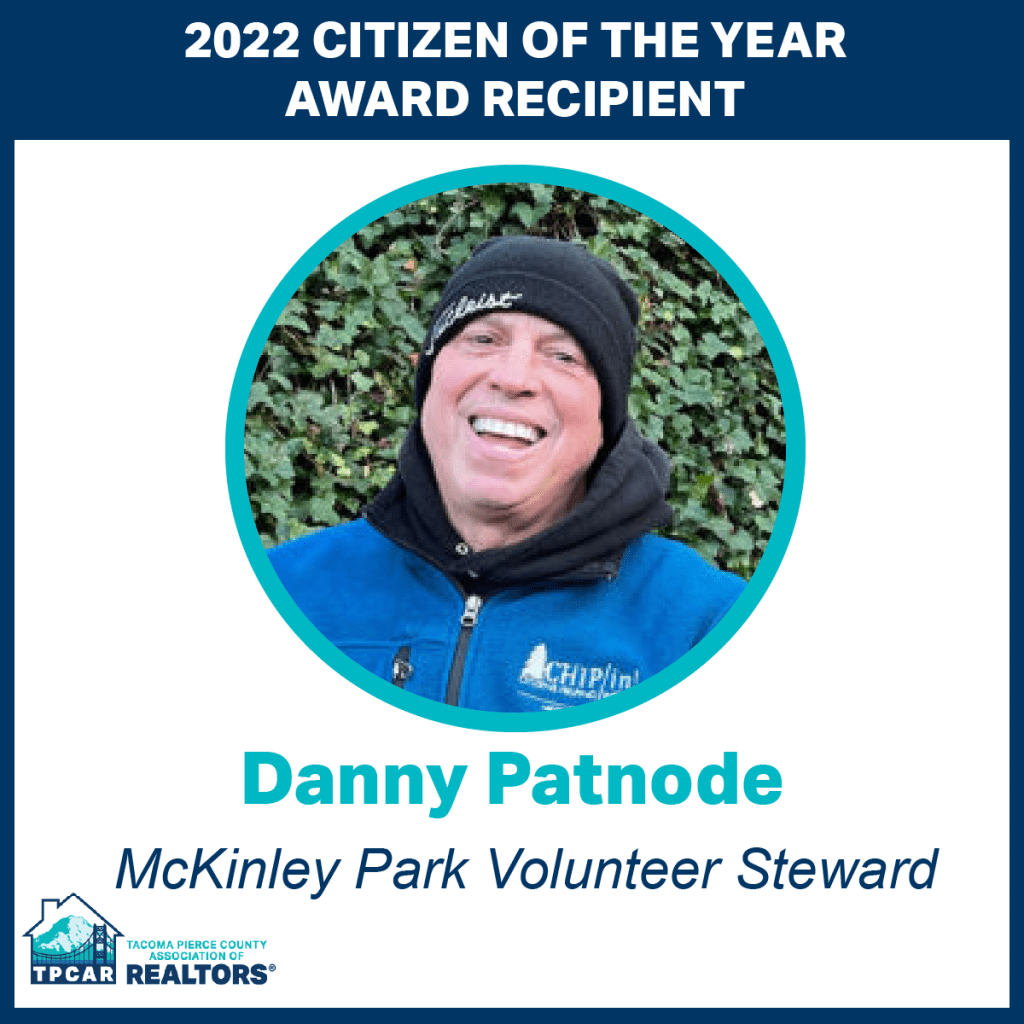 Dan Patnode has been a tireless volunteer working to maintain the safety, beauty and cleanliness of McKinley Park in Tacoma's East side. Parks contribute to one's quality of life, something that directly affects Realtors, their clients, and home values.
Logging more than 1,200 volunteer hours yearly, he is a daily fixture at McKinley Park, clearing growth and underbrush, picking up garbage, maintaining trails, repairing fencing, and doing anything else that contributes to the beauty and safety of McKinley Park.
Bouts with cancer and alcoholism and looking for a purpose contributed to Dan's unwavering work with the park. He leads volunteer groups in working at the park and is a treasured resource for Metro Parks' Chip-In! program.
He has been featured on Eric's Heroes on KOMO TV and was the recipient of Tacoma's 2021 City of Destiny Community Environmental Sustainability Award.
HAROLD A. ALLEN JR. DISTINGUISHED LIFETIME ACHIEVEMENT AWARD
In memory of the meritorious service by Harold A. Allen, Jr., this award recognizes past Tacoma-Pierce County Association of REALTORS® members who have demonstrated achievement, success and contribution at the local, state or national levels evidenced by the honors, designations and certifications earned and  by his/her impact  on their fellow REALTORS®, the real estate profession and the community.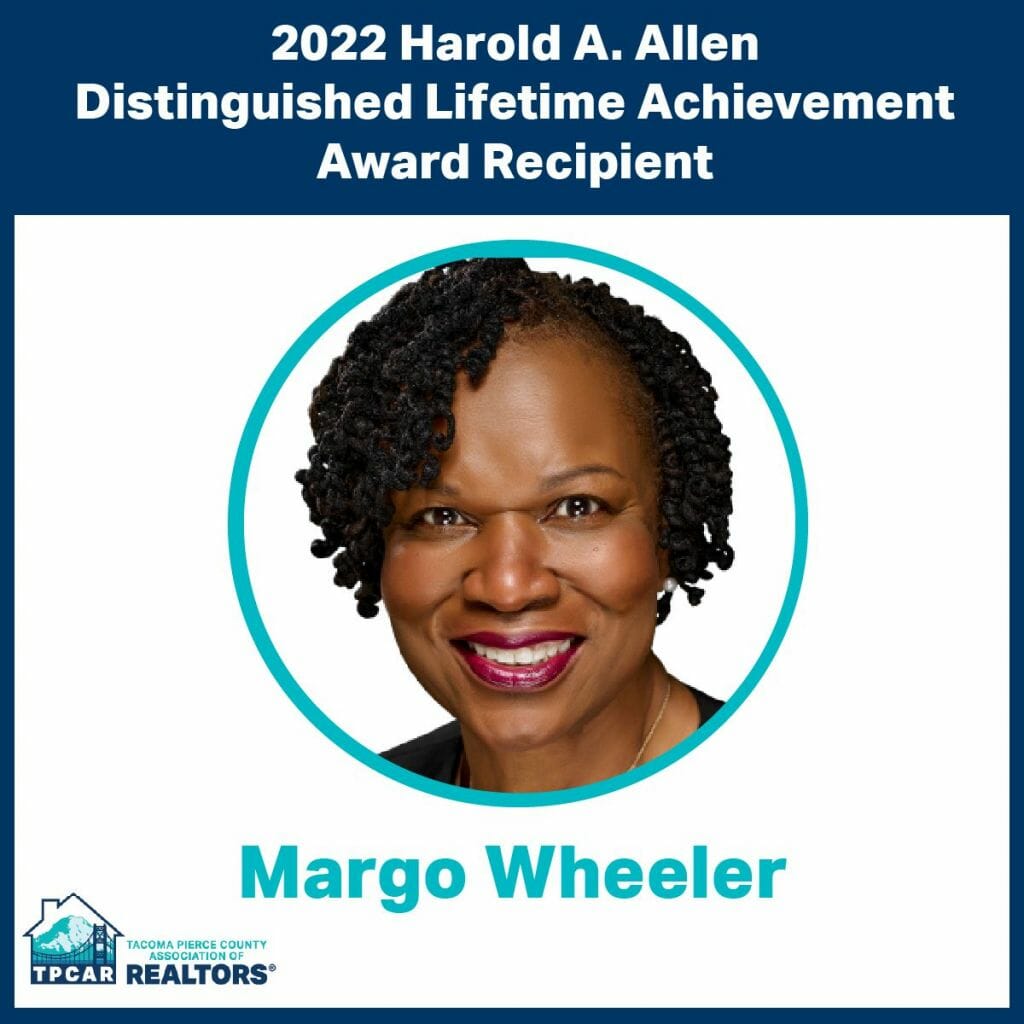 For over 50 years, Margo Wheeler has epitomized the term servant leader. A natural leader, Margo served in the military, was a drill sergeant, and retired as a United States Army First Sergeant before beginning her more than 29-year career in residential real estate.
Margo was always cognizant of the example she set for her recruits. "I couldn't be one of the guys," she said in an interview with REALTOR® Magazine. "As a woman of color — as a woman, period, at that time — I had to stand taller. I had to make sure that I had their respect at all times."
Throughout her army career, Wheeler became accustomed to frequent relocations. When she finally settled in Washington and began working in real estate, she fully understood the importance of creating smooth transitions for her clients, especially first-time buyers and fellow military personnel.
Margo brought her leadership to numerous roles within the REALTOR® organization, including as a Director on NAR's 2021 and 2022 Board; as a multiyear member of the Leadership Academy Advisory Group; and on the RPAC Trustees Fundraising Committee in 2020 and 2021. She also served as President of the National Women's Council of REALTORS® in 2011 and helped start the local chapter before being elected President.
At the state level, Margo served as Washington REALTORS® President in 2017, and chaired the Strategic Planning Committee in 2013 and 2016. She has also served as a state Director, and on numerous committees.
Margo served as TPCAR's President in 1999 and on numerous committees ranging from Education and Diversity, to Government Affairs and Member Services. She was named TPCAR's REALTOR® of the Year in 2013. Most recently, she was inducted into the RPAC Hall of Fame and was appointed and served as 2023 Vice President of Association of Affairs for the National Association of REALTORS® until her passing.
Margo was the epitome of honor and service — the poster child of what a Realtor should be — and one of the most inspirational people I have ever known. Anyone who knew Margo loved her, and her passion for our industry motivated us all to be better leaders and volunteers.
Although Margo is not with us physically today, her legacy and impact will live on in our hearts and within our association forever She will never be forgotten.